A security system is nothing more than a communications device – a link between your home in Abilene and the help you need in an emergency. But today's security systems can do so much more than just protect your home from burglars. Traditional security systems communicate through a telephone line – the phone line service could go down because of a storm or could be intentionally disabled by an intruder. With cellular/wireless technology, not having a landline is no longer a problem when it comes to security systems. Cellular alarm communicators provide the quickest and most reliable way to transmit emergency signals from your home
Home Automation Technology
We offer the 2GIG System that turns your home into a smart home. Now you can essentially be home even when you're not. Our wireless security systems can be controlled remotely from your smartphone or any computer to allow you to do what you want, when you want. Here are just a few of the benefits you will enjoy with the 2GIG system:
Door Lock/Unlock
Garage Door Open/Close
Lighting On/Off
Appliances On/Off
Thermostat Settings
Have Doorbell Ring Your Phone
Wireless Security Camera Engages with Knock on Door
Video Cameras
Arm/Disarm Your Security System
Text or Email Alerts for Specific Events
(doors opening/closing, alarms being turned on/off)
Moveable Camera Available (babysitter cam)
2GIG Security System Guards Against Crash & Smash Burglaries
The 2GIG alarm system is the only security system available with Crash & Smash Technology. Intruder have been known to try to disarm security systems by "crashing" the entry door down and then "smashing" the alarm panel within the normal 30-60 seconds programmed to give you time to enter and type in the security code. Destroying the panel before the alarm starts to beep prevents it from alerting the monitoring center rendering the entire system useless.
The 2GIG system sends out a signal as soon as the entry door is opened saying "an entry door has just been opened, stand by for a disarm confirmation". This way, if the security system doesn't follow up by sending a disarm confirmation signal, the system assumes a burglar has destroyed the alarm panel and alerts the central station who will then follow the normal burglary alarm protocol and dispatch the police if necessary.
Platinum Protection Plan
Our Platinum Protection Plan saves you money and hassle. It's much like the extended warranty you get when you buy or lease a car – only better. With our Platinum Protection Plan, you never pay for anything.* As long as you are a customer of AAC Security, we will extend the warranty of your burglar and fire alarm equipment. This means:
Free service during normal business hours
Malfunctioning parts are replaced at no charge to you.
No fees to replace low or bad batteries (in fact, we change them all when one dies so they'll last
No service call or copay fees
* Warranty covers normal wear and tear. Does not include acts of God or negligence of the equipment.
Home Security Service Plans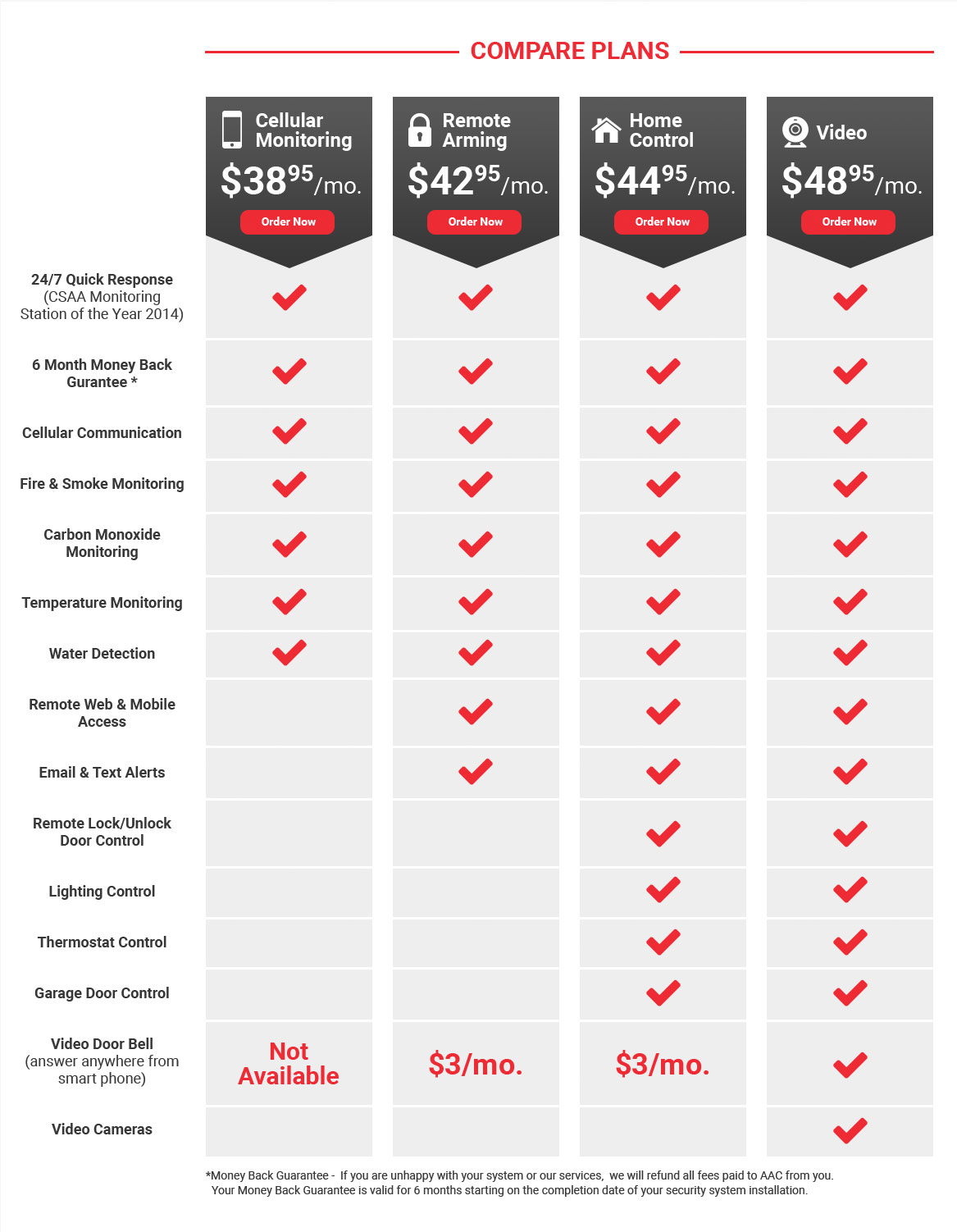 Call us with any questions at (325) 677-7233 and we'll be happy to help you create the security system that's a perfect fit!